About us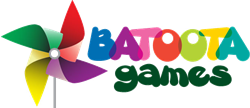 Batoota Games was formed in the year 2010 and it aims to provide wholesome fun and edutaiment.
It strives to provide world class fun game based entertaiment across the country. We aim to provide our services from the elementary level to team bonding / team building activities that enrich organisations
We partner with Event companies across the country and support them with Conceptualising and executing various large scale fun activities for the corporates
We have varied expertise and vast experience in the gaming arena, we are proud to have one of the largest inflatable resources in the country
We also aim to capture the hearts and minds of people by targeting the young.We provide various games and customised activities for children to make their growing years special.